GERASIMOS NIKOS
|
Funeral Home
of Kos - Dodecanese
---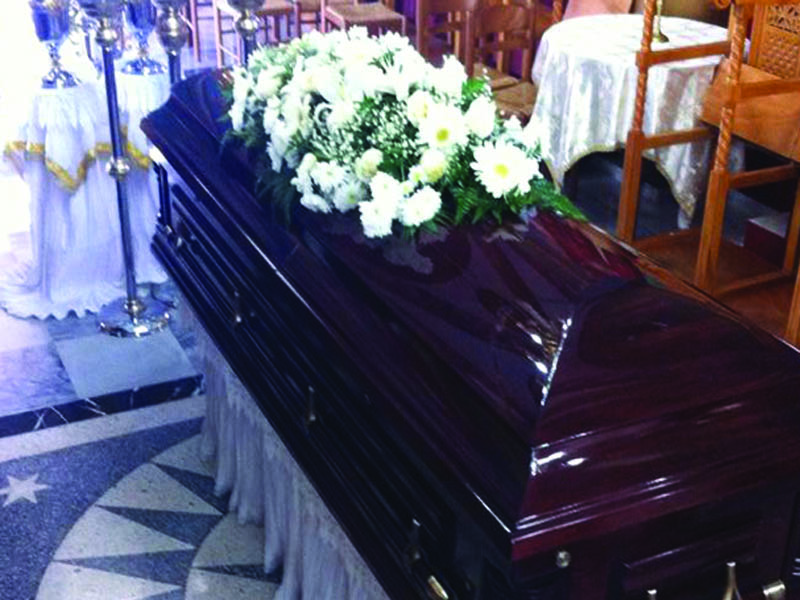 Certainly, the death of a loved one and his farewell time is one of the most painful moments in every person's life.
In this difficult time, the Funeral Home Kappas, based in Kos, stands next to each family and undertakes professionally the organization of religious and political funerals, respecting the desires and needs that arise.
Our multiannual experience makes us capable of undertaking the funeral organization and all the processes required for a complete decent ceremony, taking care even for the smallest detail. We can organize and perform any funeral according to your religious customs, your aesthetic preferences, as well as your financial capacity.
Knowing the importance of the image of a family ceremony and the close surrounding of those who bid farewell to the deceased, our experienced staff is always at your disposal to listen to your wishes and carry out this difficult task for you, taking care of to give the deceased all the right prices, always respecting the family and the pain he is experiencing.
From the first to the final stage we are next to you to ensure that everything is done exactly as you wish, but also to support you in this difficult time.
For us the high level is a fixed value, so our services reflect to the utmost the expectations of our customers.
Political Funeral

The organization of a political funeral involves similar procedures, but a sequential exile in the Church. Depending on the infrastructure of the cemetery to be buried, the political funeral can be carried out either in an interior space (a room formed for this purpose) or in a yard of the cemetery. Usually, there are various reasons to be mentioned in memory of the deceased by family members, friends or agents, depending on the act and the life of the deceased.
Funeral prices
The prices for organizing a funeral ceremony are determined according to the range of services and products provided. B.C. the type of coffin, the variety and size of the flowers, the choir, etc. Another factor that shapes the final cost is the cemetery that will be buried, as landfill and other charges vary from cemetery and city.
You can contact us and get a total offer and our suggestions for the funeral at the Cemetery you are interested in.
Indicative rates - funeral expenses
| | |
| --- | --- |
| ΟΓΑ | 800 Euro |
| ΙΚΑ | 768 Euro |
| ΤΕΒΕ | 1200 Euro για άμεσα ασφαλισμένο |
| ΔΑΠ-ΔΕΗ | 2468 Euro για άμεσα ασφαλισμένο. 1797 Euro για έμμεσα ασφαλισμένο |
| ΤΑΠ-ΟΤΕ | 1533 Euro για άμεσα ασφαλισμένο. 1234 Euro για έμμεσα ασφαλισμένο |
| ΤΑΜΕΙΟ ΔΗΜΟΣΙΩΝ ΥΠΑΛΛΗΛΩΝ | 1000 Euro |
| ΕΥΔΑΠ | 668,60 Euro μόνο σε συνταξιούχους |
| ΤΑΜΕΙΟ ΔΗΜΟΤΙΚΩΝ ΥΠΑΛΛΗΛΩΝ(ΤΥΔΚΥ) | 733 Euro μόνο σε συνταξιούχους |
| ΤΑΜΕΙΟ ΥΠΑΛΛΗΛΩΝ ΕΘΝΙΚΗΣ ΤΡΑΠΕΖΗΣ(ΤΥΠΕΤ) | 1335 Euro για ασφαλισμένους που είναι εγγεγραμμένοι στο Σύλλογο & το ΤΥΠΕΤ. 634 Euro ασφαλισμένοι μόνο στο ΤΥΠΕΤ |
| ΤΑΜΕΙΟ ΑΣΦΑΛΙΣΕΩΝ ΣΥΜΒΟΛΑΙΟΓΡΑΦΩΝ(ΤΑΣ) | 1784 Euro για τους εν ενεργεία |
| ΤΑΜΕΙΟ ΑΣΦΑΛΙΣΕΩΣ ΞΕΝΟΔΟΧΟΥΠΑΛΛΗΛΩΝ (ΤΑΞΥ) | 1 μην.μισθό 75x25 άμεσα ασφαλισμένο. 1/2 μην. μισθό 75x12,5 έμμεσα ασφαλισμένο |
| ΤΑΜΕΙΟ ΕΝΩΣΕΩΣ ΣΥΝΤΑΚΤΩΝ (ΕΣΗΕΑ) | 2300 Euro για άμεσα ασφαλισμένο. 1700 Euro για έμμεσα ασφαλισμένο |
| ΤΑΜΕΙΟ ΣΥΝΤΑΞΕΩΝ ΕΡΓΑΖΟΜΕΝΩΝ(ΗΣΑΠ) | 1712,96 Euro |
| ΤΑΜΕΙΟ ΥΓΕΙΟΝΟΜΙΚΩΝ ΥΠΑΛΛΗΛΩΝ(ΤΣΑΥ) | 2396 Euro για άμεσα ασφαλισμένο. 1797 Euro για έμμεσα ασφαλισμένο |
| ΤΑΜΕΙΟ ΑΣΦΑΛΙΣΕΩΝ ΕΜΠΟΡΩΝ (ΤΑΕ) | 1200 Euro για άμεσα ασφαλισμένο |
| ΤΑΜΕΙΟ ΝΟΜΙΚΩΝ | 1734,82 Euro μόνο σε συνταξιούχους |
| ΤΑΜΕΙΟ ΑΣΦΑΛΙΣΕΩΣ ΤΕΧΝΙΚΩΝ ΤΥΠΟΥ ΑΘΗΝΩΝ | 2113 Euro για άμεσα ασφαλισμένο. 1479 Euro για έμμεσα ασφαλισμένο |
| ΝΑΥΤΙΚΟ ΑΠΟΜΑΧΙΚΟ ΤΑΜΕΙΟ (ΝΑΤ) | 590 Euro μόνο σε συνταξιούχους |
| ΤΑΜΕΙΟ ΣΥΝΤΑΞΕΩΝ ΜΗΧΑΝΙΚΩΝ & ΕΡΓΟΛΗΠΤΩΝ ΔΗΜΟΣΙΩΝ ΕΡΓΩΝ (ΤΣΜΕΔΕ) | 1302 Euro για ασφαλισμένους που παίρνουν 2 συντάξεις απο το ΤΣΜΕΔΕ. 1232,30 Euro για ασφαλισμένους με 1 σύνταξη στο ΤΣΜΕΔΕ & άλλη συνταξη απο άλλο ταμείο. 615 Euro για έμμεσα ασφαλισμένο |
| ΤΑΜΕΙΟ ΑΣΦΑΛΙΣΕΩΣ ΕΦΗΜΕΡΙΔΟΠΩΛΩΝ(ΤΣΕΥΠ) | 3178,66 Euro για άμεσα ασφαλισμένο. 50% για έμμεσα ασφαλισμένο |
---
You can contact us or visit our the Funeral Home Kappas, which is located at the 4th Km of PROMOTIONAL ROAD in Kos. We are always there for you, offering support and solving every procedural issue.